Come celebrate our local Sea Cadet Corps achievements and enjoy a southern BBQ meal.
The covered Pavilion, the Lakeside area, the Kayak,Canoes,and the Pool. Lunch will be catered so there is not need for cooks, servers and dishwashers. Uniform Of The Day will be shorts and unit t-shirts. Don't forget to bring appropriate swim suits, towels and sun screen.
Where:  Mary Help of Christians Center located at 6400 East Chelsea Street Tampa, Florida 33610.
When:   Saturday August 26, 2017 from 1000 to 1400.
More
August 26, 2017 Mary Help of Christians Center

- No registration required - Mary Help of Christians Center
$0.00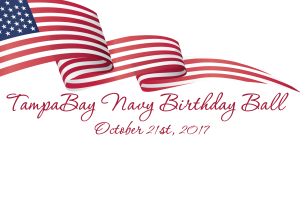 VIP Arrival / Cocktail Reception / Silent Auction : 1730 (5:30pm)
Call to Dinner : 1830 (6:30pm)
Dinner is Served: 1930 (7:30pm)
Dancing: 2100 (9pm)
Military Attire : Service or Dinner Dress Blues or Equivalent
Civilian Attire : Black tie preferred
---
Event Includes:  Ball access, gourmet meal, open bar, keynote address, silent auction, entertainment and dancing.
Keynote Address : Rear Adm. Daniel "Brian" Hendrickson – Director, Theater Engagement (J7), U.S. SOUTHCOM
Gourmet Menu Options:
Spice Rubbed NY Strip with Bourbon Peppercorn glaze
Pan Seared Cajun Mahi Mahi with Lemon Dill sauce
Vegetarian Option – Quinoa Stuffed Red Pepper over Spinach
NOTE: Childcare will be provided for $20/child (meal (pizza) and drinks included) – Payable at event
---
Block room rates available for bookings prior to 10/10 – Block Rate provides for Government room rate. Visit Hotel link and book directly with Hotel (reference Group Code : NAVYB).
To Reserve Rooms follow this link: Hilton Tampa Downtown
Group Name: 242nd Navy Birthday Ball   |  Group Code: NAVYB   |
Hotel Address:  211 North Tampa Street, Tampa, Florida  33602   Phone #:  813-222-4903
---
Since 1972, each CNO has encouraged a Navy-wide birthday celebration "to enhance a greater appreciation of our Navy heritage, and to provide a positive influence toward pride and professionalism in the naval service." This year, the Tampa Bay Navy League is honored to be able to host the celebration of the Navy's 242nd birthday. Please join us as we celebrate 242 years of Honor, Courage and Commitment.
---
Per Ticket Rate
Civilian                                                $125
NJROTC | NROTC | Sea Cadet        $25 (per cadet)

Instructors/staff cost based on rank (1 guest may attend at rank level, additional guests pay Civillian rate)
E6 and below                                      $25
E7 to O3                                               $50
O4 to O5                                              $70
O6 and above                                      $80
Officer Retirees                                  $65
Enlisted Retirees                                $50
Ft Brooke Garage Validation           $15  (self parking)
Limited Space Available