Tonight, May 15, 2018 our Council celebrates with local Maritime Academy Appointees and NROTC Scholarship winners at the Holiday Inn Westshore.  Our Eighth Annual Celebration will recognize 4 young men and 3 women with appointments to the U.S. Naval Academy, 1 young lady with an appointment to the U.S. Coast Guard Academy, 1 young man with an appointment to the U.S. Merchant Marine Academy and 2 young men who have been awarded NROTC scholarships.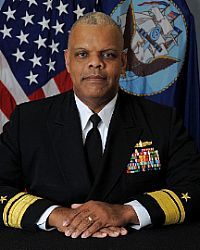 Our honored guest and speaker for this evening will be Rear Admiral Sinclair M. Harris (retired).  Rear Admiral Sinclair Harris is a native of Washington D.C. He is a 1981 graduate of James Madison University in Harrisonburg, Virginia, where he received a Bachelor of Science in Economics. His early sea assignments include tours aboard USS Long Beach (CGN 9), USS Vincennes (CG 49), USS Jarrett (FFG 33), USS Coronado (AGF 11), and as commissioning executive officer in USS Benfold (DDG 65).
Please help us Congratulate these future leaders and their families.